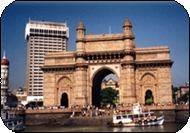 Day 01: Arrive Mumbai.
Evening arrive at Mumbai Chhatrapati Shivaji International airport.
Welcome to Mumbai. Fifteen million people live in Mumbai - industrialists, film-stars, artists, workers, teachers and clerks - all living cheek-by-jowl in soaring skyscrapers and sprawling slums. They come from diverse ethnic backgrounds and speak over a dozen tongues, adding colour, flavour and texture to the Great Mumbai Melting Pot.
Mumbai is a city that never sleeps! If you're visiting on business or holiday, there are lots of things to do and see.
On arrival meeting, assistance at airport by our representative and transfer to hotel. Where our executive will explain the travel plan in detail and hand over the essential documents (Tour programme, hotel's vouchers, feedback report etc) to you. Rest of the day free for leisure activities. Overnight at hotel.