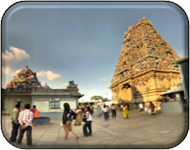 Day 01: Arrive Chennai - Mahabalipuram (67 kms) - Pondicherry (100kms) - Chidambaram (70 kms)
Morning arrive at Chennai International airport.
Chennai, formerly known as Madras, this 369-year-old city is the capital of the southern state of Tamil Nadu and is India's sixth-largest city in terms of population with an estimated population of 7.45 million (2005). It serves as one of the main gateways to South India and has a thriving local culture and art scene and is one of the major destinations for medical tourism. It is considered as one of the world's fastest growing cities although ranks 13th in terms of cleanliness. It is on the Coromandel coast of the Bay of Bengal and has the second longest beachfront of any municipality in the world.
On arrival, meeting, assistance at airport by our local representative. Where our executive will explain the travel plan in detail and hand over the essential documents (Tour programme, Hotel's vouchers, Feedback report etc.) to you.
Later continue your drive to Mahabalipuram. Mahabalipuram - The religious centre of Mamallapuram (formerly Mahabalipuram) was founded by a 7th-century-CE Pallava king, Narasimhavarman, also called Mamalla ("great wrestler"), for whom the town was named.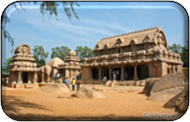 On arrival visit The Sthalasayana Perumal Temple also known as Thirukadalmallai temple - The Temple resides as the first and foremost of Mahabalipuram sculptures. It is one of the 108 Divya desam. The temple stands on the shore and it was built along with the other sculptures. It is a small temple with two major Shrines for Lord Sthalasayana Perumal and Nilamangai Thayaar. This is the avatrasthalam (Birthplace) of Bhoothathazhwar, the 2nd Azhwar. There is also a separate shrine for Lord Narasimha. Also visit shore temple, Five Rathas (Panch Rathas) & Pallava Cave - The standing testimonial to the rock cut art, Arjuna's Penance, Krishna Mandapam and beach.


Later drive to visit Pondicherry. Pondicherry is the erstwhile French colony now a union territory India. On arrival visit Auroville - A real example of community living and gradually flourishing, Auroville is conceived as a 'Universal Town'. This is a place were people with different nationalities; beliefs and culture live in harmony. This amazing city of community living was started in 1968 by the Maa, renowned disciple of Shri Aurobindo, also visit Aurobindo Ashram, Pondicherry Museum and sculpture gallery with an outstanding collection of artifacts.
Later continue drive to Chidambaram. Chidambaram is among the most venerated towns in the Southern India. The sacred city has some of the finest of the architectural marvels that its famous temples reflect. On arrival, check in at hotel. Rest of the day free for leisure activities. Overnight at hotel.